Forever Friends Quilting Newsletter
Welcome and Thank you for subscribing to our monthly newsletter


As our little shop continues to grow we are adding new products all the time. We will be receiving new patterns from "The Pattern Basket" as well as new fabric lines over the next month. We have also started to receive our Villa Rosa Patterns.

There is so much going on we would need a newsletter weekly to keep up, so just stop by and have a peek over the next month as we are expanding.


Rachelle and Maggie are very happy to introduce you to our newest team member Georgia Rogers.
Georgia comes to us with many years of experience and great knowledge. We are extremely blessed to have such a amazing, creative and knowledgeable new friend!!
Some of you may have already met her at the store, but if you haven't you are definitely in for a treat!!


We also have a longarm service available provided by Once upon a quilt. Information will be available in the store


Our hours of operations in store are;
Tuesday to Friday 10am to 6pm,
Saturday 10am to 4pm,
Sunday & Monday Closed
Our online shop is open 24hrs 7 days a week visit us at;
Website: www.foreverfriendsquilting.ca
Facebook: foreverfriendsquiltinginc


---


IMPORTANT DATES TO REMEMBER

February 14, 2022 - Valentines Day
February 21, 2022 - Family Day



---
Birthday Club




Our birthday club started in January! Next time you are in the store check with us to make sure we have you in there. You will receive an email which will give you a one time coupon for 10% off your purchase. The code goes the first of every month and the code will expire in 14days after receipt.






***We have had a few people tell us they did not receive it. Our website designer has advised us that they could be going to "Spam Mail" so please check and add us as a safe contact list.




Block of the Month


***UPDATE*** We are still on track for February/March to have a beautiful BOM starting up. "Lakeside" Shop kits are set to arrive shortly and the first block by the end of the month. The program will run for 10 months and the cost will be $42/month. We have secured 20 kits so be sure to get yours when they become available as we do have a wait list already so there are only a minimum amount left. Those on the wait list will be contacted shortly.

Stay tuned to our Facebook page and email for sign up information on our website as we roll out this new program.
---
Sewing Classes and Sew Space Update
We have been working hard to get our sewing space up and running. We had a few electrical details to work out but it is starting to all come together, YAY! We have spoken to some instructors so stay tuned for more details very soon!
---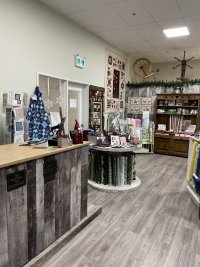 Forever Friends Quilting Inc
111, 320 Second Street
Strathmore, Alberta T1P1K1
403-322-3374
admin@foreverfriendsquilting.ca